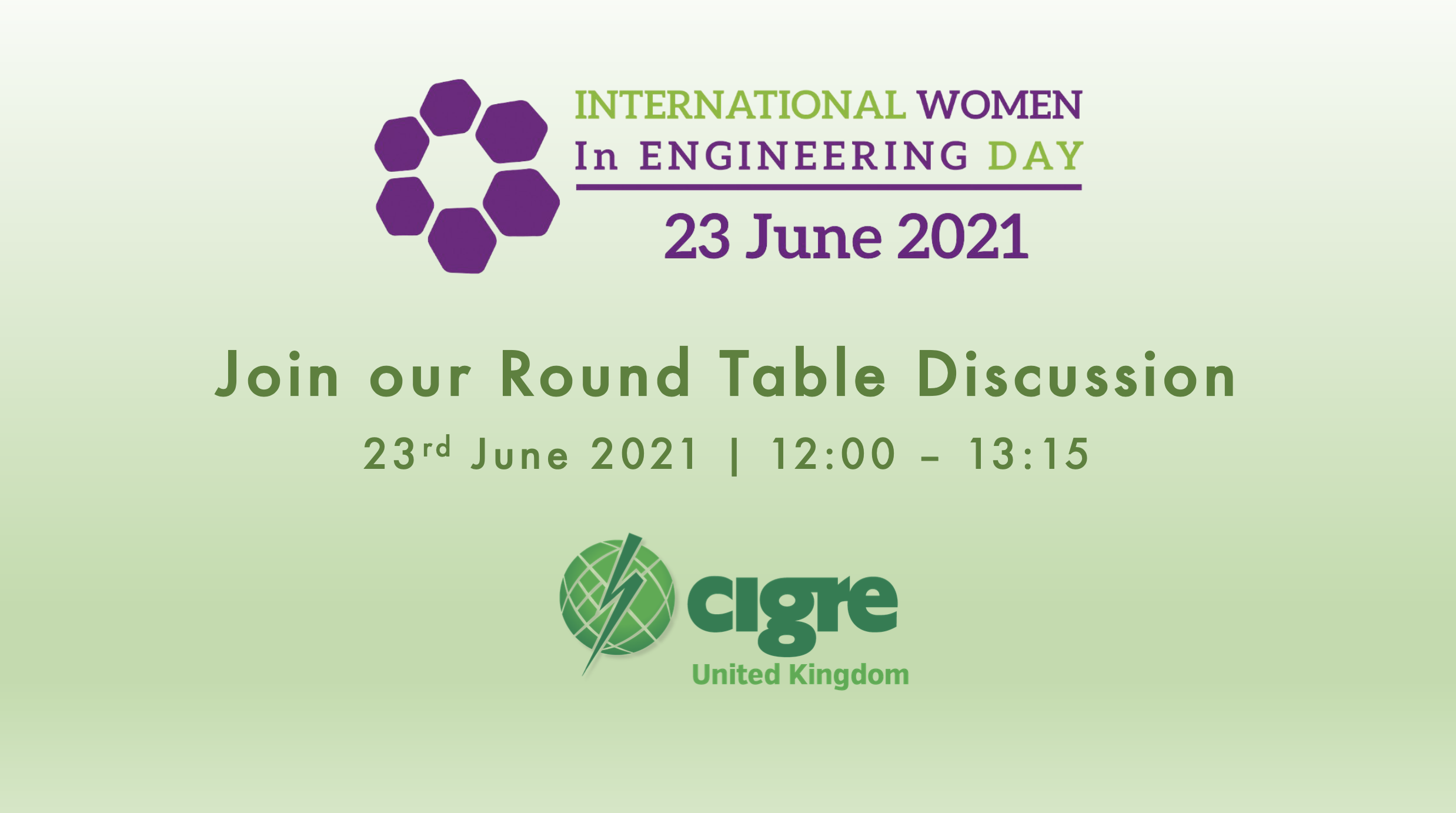 Join us to celebrate International Women in Engineering Day.

Join our panel from the power systems industry who will discuss their experiences of building a career in the world of engineering. Anna Ferguson has kindly volunteered to moderate the session and there will be time to include audience participation.
Moderator
Anna Ferguson – Power Systems Director at WSP
Panel
Chidinma Agwu – Principle Engineer at WSP
Claire Dykta – UK Head of Strategy at National Grid
Charlotte Higgins – Business & Investor Advisory at ARUP
Elizabeth Mackenzie – Industry Consultant
Polly Osbourne – Electrical Power Engineer at Burns & McDonnell
Jingyi Wan – HV Cable Systems Project Engineer at Mott MacDonald
To register for this event

Speaker Profiles
Anna Ferguson is the Power Systems Director with WSP, leading the Power Systems and Energy Strategy Consulting teams, which have grown significantly during her 3 years with the company. She brings a range of knowledge and experience including electricity regulation, power system economics, experience in supporting a range of generation developers and project management. She also has previous experience in power systems studies for both network operators and generation developers. Prior to joining WSP Anna has held roles as Head of Power Networks with Atkins, where she led the UK Power Networks team, and was a Director with TNEI. Anna has a background in strategy consulting which was gained when she worked in her earlier career as a Management Consultant for a London consultancy. She now applies the principles gained working for major global clients within the Energy industry. She also has a strong academic background and was a member of the teaching staff at Bath University for the MSc in Electrical Power Systems for five years. Anna is a Fellow of the IET (FIET) and a Chartered Engineer.
Chidinma Agwu graduated from the University of Manchester Institute of Science and Technology (UMIST) with a Master in Engineering with honours. She has over 10 years experience with GE where she was heavily involved in large HVDC projects such Rio Madeira and Dolwin 3. She joined WSP in 2017 and now works as a Principle engineer within the Interconnectors team at WSP and has been involved in several HVDC Interconnector projects such as Greenlink and Aquind. She is an active member of the IET and Cigre and was previously a committee member of the CIGRE Next Generation Network and currently the B4 Technical Panel secretary.
Claire Dykta is UK Head of Corporate Strategy for National Grid, one of the world's largest investor-owned energy companies. She has worked in a diverse range of regulatory, commercial and operational roles and has been at the sharp end of changes in the UK Power sector, including being responsible for optimizing the power grid for the first UK coal-free day. Claire is passionate about facilitating the transition to a decarbonised energy system through embracing innovative and disruptive technologies, championing the role of the consumer and promoting the importance of diversity and inclusion in the energy sector. She has been named in the @rise_utils list of the top 25 UK influencers in the energy industry, in the top 1000 @SustMeme global influencers on Climate & Energy and recognized in the 2020 HERoes women executives list. She also sits on the Advisory Boards for the Oxford University-run UK Centre for Research on Energy Demand and Cambridge University's Energy Policy Research Group.
Charlotte Higgins has over 20 years experience in the energy sector and specialises in technology, economic and regulatory considerations for the development of electricity networks. She provides strategic analysis and advice for energy system investment, innovation and master-planning zero transformation to energy regulators, electricity network companies and investors. Charlotte is the Cigre UK regular member for C1 System Development and Economics. She has had the opportunity to work in a number of countries outside of the UK including South Africa, Australia, Ireland, Iraq and Oman.
Elizabeth MacKenzie qualified with a BSc in Electrical and Electronic Engineering from The Queen's University of Belfast (QUB) in 1984. She spent a year on the Scottish Engineering Training Scheme before taking up a permanent post as a design engineer with Bonar Long, designing medium power and distribution transformers. The company eventually became part of ABB and Elizabeth was one of the leading engineers involved in expanding the factory range up to 400kV. After leaving ABB, Elizabeth joined Hawker Siddeley Power Transformers (HSPT) as Development Manager, developing transformer design programs and facilitating the integration of the engineering departments in the company's three transformer plants. After HSPT closed, Elizabeth spent some time as an independent consultant before joining Kelman, later GE, as product manager for multi-gas transformer dissolved gas analysis (DGA) monitoring systems. During this period she qualified with an MSc in Electrical and Electronic Engineering from QUB and also became a Fellow of the IEE (now the IET). Elizabeth moved to Winder Power as Engineering Manager, overseeing the engineering department and quality department, designing medium power and distribution transformers as well as leading a small electrical machines division. Since leaving Winder Power, Elizabeth has been an independent consultant, working with companies such as Threepwood Consulting Limited and IST Power. Her main interest is transformers from conception to disposal, and she has also been involved in documentation projects for several companies. Elizabeth is currently the Additional Regular Member for Cigre A2 in the UK ad is a member of AG2-08.
Polly Osborne is an electrical power engineer specialising in whole system energy decarbonisation and sustainability at Burns & McDonnell. Her responsibilities include multi-vector energy system and embedding sustainability into engineering design. She is an NGN member of CIGRE WG C1.47 exploring Energy Sectors Integration and is also chair of the Burns & McDonnell's Women's Network in the UK. Prior to her current role, she delivered substation upgrade construction projects. Polly holds degrees in both Physics and Electrical Power Engineering.
Jingyi Wan is an HV Cable Systems Project Engineer at Mott MacDonald. Technical expertise is on onshore and offshore Cable Systems design, manufacture and technical advisory at various stages of project life cycle. Before this role, she was a product development engineer for a subsea cable supplier. Worked with a team to qualify and supply the cables the industry's first commercial 66kV array cable project. She is the UK Representative of CIGRE NGN International Executive Committee, also a young expert member of CIGRE B1 WGs on insulated cable.