Review and/or download the presentation material from the CIGRE UK Technical Liaison Meeting.
B4 Study Committee Mission, Technology & Scope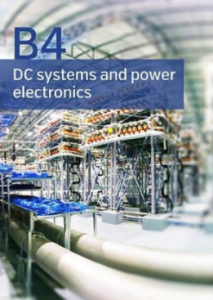 Mission
To facilitate and promote the progress of engineering and the international exchange of information and knowledge in the field of DC and power electronics. To add value to this information and knowledge by means of synthesizing state-of-the-art practices and developing recommendations.
Technological field of activity
Direct Current equipment and systems including converter technology and semiconductor devices.
Power electronics for AC systems and power quality improvement, advanced power electronics and applications.
CIGRE UK B4 Technical Liaison Meeting 2021
https://drive.google.com/file/d/1PPIYz5wbfB61C4s9d6H6tuuGRBLFNN2O/view?usp=sharing
WG B4.89: Condition Health Monitoring and predictive maintenance of HVDC Converter Stations
https://drive.google.com/file/d/1IUKtfoz0TyIDM3ihSWcRfELY7AQ0ahYo/view?usp=sharing
WG B4-68: DC side harmonics and filtering in HVDC transmission systems – TB 811
https://drive.google.com/file/d/1wsOTXQe7NZsnmFRJndUNGI2D2FwDQKAF/view?usp=sharing
B4.76: DC-DC Convertors in HVDC Grids and for connections to  HVDC Systems
https://drive.google.com/file/d/1DNbEwnhbZleUqtjC8MzBe8-dqN8vFo1r/view?usp=sharing
Flexible LCC HVDC Technology
https://drive.google.com/file/d/1fWJQAM52OOO57CJN9Ec4X-FPYdDlk0NZ/view?usp=sharing
Joint WG C6/B4.37: Medium voltage DC distribution systems
https://drive.google.com/file/d/11WOu25XMS_4Sa702ZhWO1tNfFMO-gLXe/view?usp=sharing
WG B4.90: Operation and Maintenance of HVDC and FACTS Facilities
https://drive.google.com/file/d/1czrS_Z6bWpe7bpNgvrFbJu9rrvHkuulK/view?usp=sharing
WG B4.87: Voltage Sourced Converter (VSC) HVDC responses to disturbances and faults in systems that have low synchronous generation
https://drive.google.com/file/d/1WN3Shkijg74P3IV7HkAWdTzjySCdDNvf/view?usp=sharing