Environmentally Friendly Ester Based Power Transformers
An Online Technical Webinar
Wednesday 18th May 2022 | 13.00 to 14:00
Technologies, especially the insulation technology, for environmentally friendly Ester based power transformers have been developing over the last 40 years, gradually moving from the low voltage, distribution to large transmission and generation transformers. Nowadays the use of ester filled power transformers is considered more widely and preferably by the environmental sensitive areas such as offshore wind farms. CIGRE A2 UK has invited three experts to give this technical seminar, which will cover the overview of Environmentally Friendly Ester based Power Transformers, the industry' best practice in procurement ,design, operation and maintenance, ester liquids' properties and their impact on thermal and electrical design & maintenance

 .
Speaker Profile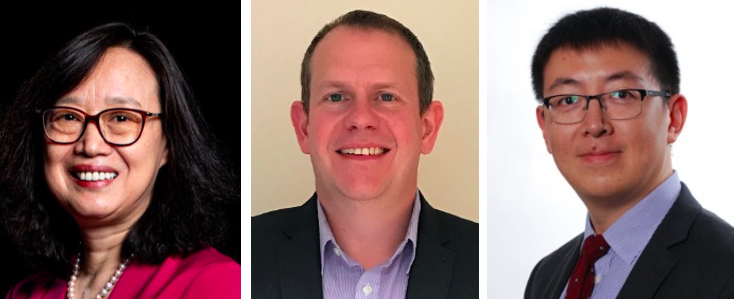 Zhongdong Wang (FIEEE, FIET) is a Professor of Electrical Power Engineering and the Pro-Vice-Chancellor and Executive Dean for the College of Engineering, Mathematics and Physical Sciences at the University of Exeter. She received a BEng degree and an MSc degree from Tsinghua University of Beijing China in 1991 and 1993, respectively and a PhD degree in Electrical Engineering from UMIST in 1999. She joined The University of Manchester (then UMIST) in 2000 as a Lecturer, progressing to Senior Lecturer in 2007, Professor in 2009 and the Associate Dean of Internationalisation for the Faculty of Science and Engineering in 2016. In 2020 she joined Exeter as their Pro-Vice-Chancellor and Executive Dean for the College of Engineering, Mathematics and Physical Sciences. She is the UK Regular Member for CIGRE A2 and she is also a Fellow of the IET and a Fellow of the IEEE. Her research interests lie in Smart Grids and Low Carbon Electrical Energy Networks, in particular condition monitoring techniques, thermal, electrical transient and magnetic modelling techniques for power system networks, dielectric insulation ageing mechanisms, alternative environmentally friendly liquid insulating materials, and transformer asset management.
Mark Lashbrook is the Technical Director of M&I Materials Ltd. He received a BEng (Hons) degree in Electrical and Electronic Engineering from Loughborough University in 1995, and following graduation he joined the semiconductor industry. He spent the next 12 years working in a variety of engineering roles for major IC manufacturers, including Fujitsu Microelectronics and Intel. In 2007 Mark joined M&I Materials Ltd as a Development Engineer for MIDEL ester liquids. Since then his work in the field of ester liquids for transformers has encompassed research work alongside universities and numerous development projects with OEMs. Mark has also been responsible for supporting users of MIDEL ester liquids worldwide. In 2019 Mark moved to head up the newly formed Innovation team, focussing on R&D in electric vehicle battery cooling under the MIVOLT brand. In September 2020 Mark was promoted to the position of Technical Director, responsible for the technical function across all five of the product groups within M&I Materials Ltd. Mark has authored and co-authored a wide number of publications in magazines and at events worldwide, on the subject of alternative dielectric liquids. This has included papers in the 2011, 2014 and 2017 IEEE ICDL conferences and at the 2012 and 2018 Cigré Sessions.
Dr. Qiang Liu is a Reader in Power System Plant and the Head of High Voltage Research Group in the Department of Electrical and Electronic Engineering at the University of Manchester. He obtained a PhD degree in Electrical Power Engineering from the University of Manchester in 2011. He is the secretary of CIGRE D1.01 Advisory Group on "Dielectric liquids and liquid impregnated insulation systems" and a member of several CIGRE A2/D1 working groups. He is a senior member of the IEEE and an Associate Editor of IET journal of High Voltage. His research interests focus on dielectric liquids and liquid impregnated insulation systems and their applications in high voltage equipment, e.g. transformer, cable accessories. The research topics include pre-breakdown and breakdown mechanisms, ageing assessment, thermal modelling, asset management, alternative insulation materials and high voltage testing. He has contributed to 2 CIGRE technical brochures and published more than 130 research papers.
..
. 
This Webinar series is kindly sponsored by Burns & McDonnell