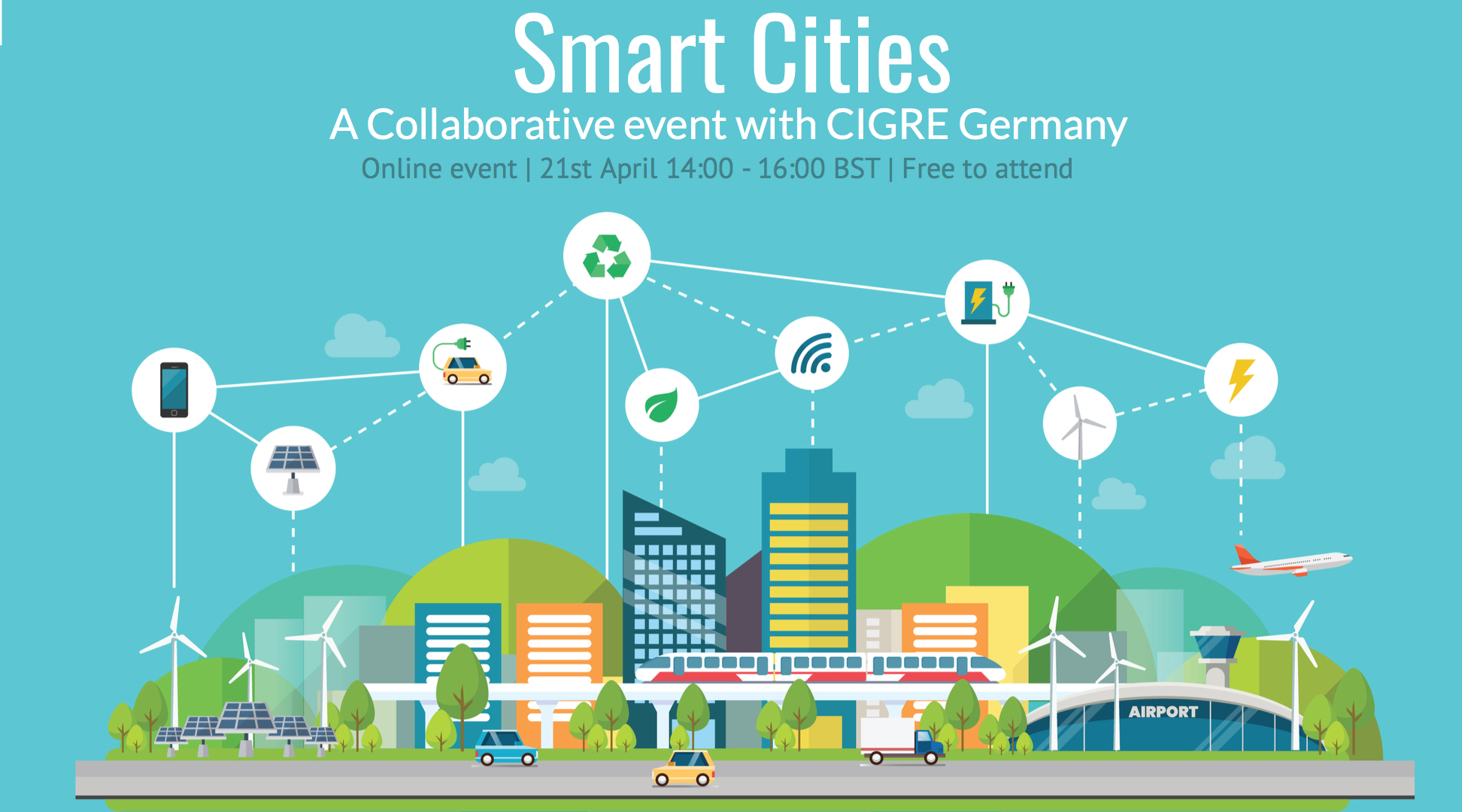 Smart Cities
A Collaborative event with CIGRE Germany 
Wednesday 21st April, 14:00 – 16:00 BST
Online event – Free to attend
.
About this event
More than half of the World's population resides in Cities, making them critical to the prosperity of any nation. Cities need to play their part in embracing the challenge of becoming carbon neutral by 2050. With this comes the opportunity to develop strategies for emission-free transportation, the integration and management of sources of renewable energy, new methods of heating, and digital infrastructure to support this evolution.
This event, kindly sponsored by CIGRE Collective Members Mott MacDonald and WSP, brings together subject matter experts from across Europe to explore how a future energy distribution system will need to evolve to support the transition to a Smart City.
Agenda
–14:00 – 14:05 – Welcome and Introduction | Dr. Biljana Stojkovska, National Grid ESO, Chair of CIGRE UK Women's Network & Christine Schwaegerl, Chair of CIGRE Study Committee C6 (Active Distribution Systems & Distributed Energy Resources)
14:05 – 14:15 – Keynote from CIGRE UK and Germany | Frank Golletz, 50 Hz, Chair of CIGRE Germany & Adam Middleton, Siemens, Chair of CIGRE UK
14:15 – 14:35 – Results of CIGRE Working Group C1/C4 36. Key Findings and Trends on Smart Grids in Metropolitan Area and Large Cities Power Systems | Stanislav Utts, Russia, Co-Convener of CIGRE Working Group C1.C4.36
14:35 – 14:50 – Tools and Techniques for Smart City Network Analysis | Anna Ferguson, Power Systems Director, WSP
14:50 – 15:05 – Network integration of electric mobility | Eric Junge, Netze BW, Germany
15:05 – 15:20 – Smart City Berlin | Thomas Schäfer, CEO Strometz Berlin, Germany
15:20 – 15:35 – The Path to Zero Carbon Heat and the Impact on GB Electrical Systems – Douglas Ramsay, Principal Electrical Engineer, Mott MacDonald
15:35 – 15:55 – Panel Discussion – Questions and Answers | All speaks + Monica Donldson-Balan & Monica Crosa di Vergagni, Mott MacDonald
15:55 – 16:00 – Closing Remarks
 .
Thank you to our event sponsors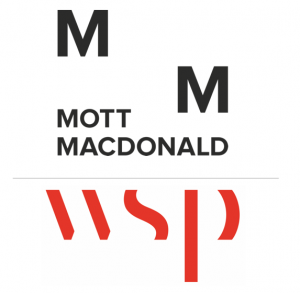 Speakers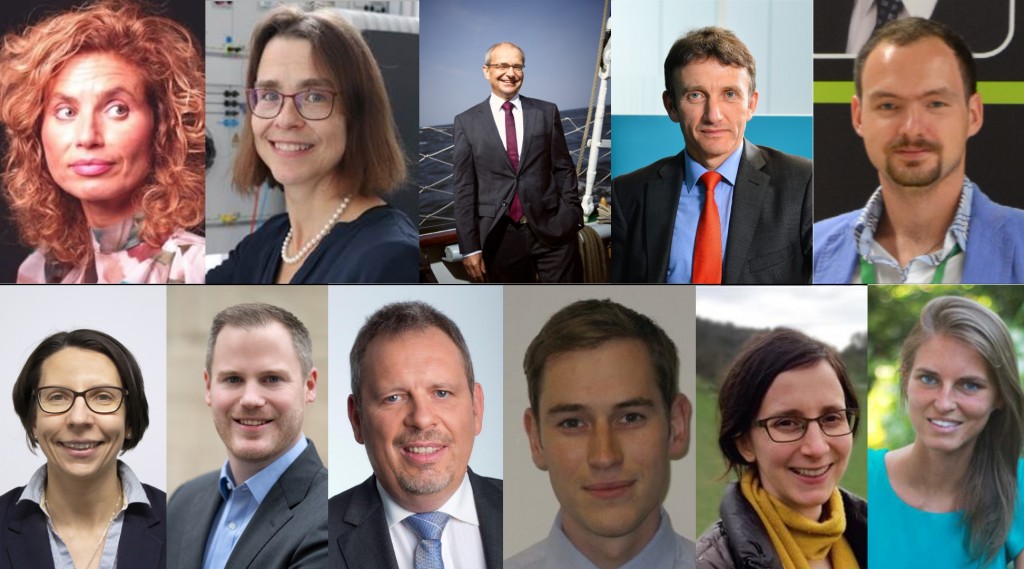 Biljana Stojkovska
Bio: National Grid ESO Innovation Technical Manager Dr. Biljana Stojkovska is an esteemed figure in the energy revolution with one of the most transformational projects that the energy industry has seen. The project is called Power Potential and Dr. Stojkovska is leading a multidisciplinary team that is pioneering a whole system approach to connect additional renewable energy in a new regional reactive power market trial. This trial is expected to improve interaction between National Grid's Electricity System Operator, regional electricity distributors and renewable energy generators connected to the distribution system to create a cost-effective new revenue stream for embedded generators and give greater robustness to the power system.
She is also Technical Manager for Offshore Coordination working on strategic development of the offshore network with overall aim to achieve the most economic and efficient network solution for end consumers in order to meet government green future objectives.
Biljana is a Charted engineer and Fellow of the IET. Skilled communicator, experienced in presenting at international conferences, collaborating across multiple sectors and government regulatory bodies. Founder and chair of CIGRE UK Women's Network of highly respected international council for large electric systems CIGRE UK.
Christine Schwaegeri
Bio: Professor Dr.-Ing. Christine Schwaegerl received her PhD from Dresden Technical University, Germany, in 2000. In 2000 she joined Siemens AG as a consultant with Siemens Power Technologies International, being responsible for several national and European research and development activities in distribution networks. Since 2011 she has held the role of full professor at Augsburg University of Applied Sciences. Christine currently is also chair of CIGRE SC C6 Active Distribution Systems and Distributed Energy Resources.
Frank Golletz
Bio: Dr. Frank Golletz holds the of ce of Chief Technical Of cer at 50Hertz since 2011. His responsibilities include the company's asset management as well the operation, optimisation, reinforcement and expansion of the grid and the technology in the onshore and offshore substations.
As Chief Technical Of cer, Frank Golletz is committed to a sustainable energy transition coupled with a high level of technical reliability and the security of supply.
A particular concern of his is safety at the workplace both when it comes to 50Hertz employees as well as for workers of contracted companies.
In the coming years, 50Hertz will make considerable in- vestments in the grid infrastructure. For this, it requires public acceptance. To limit the impact on humans and the environment, 50Hertz implements extensive public participation procedures in the affected regions even beyond the scope of what is required by law.
Frank Golletz studied electrical engineering at the Institute of Electrical Power Systems and High Voltage Engineering of the Technical University of Dresden, where he obtained his doctorate in 1989. In 1990 he joined Verbundnetz AG (later: Vereinigte Energiewerke AG) and soon after he led the substation section for the Dresden grid operations, the Saxony-Anhalt grid operations in Bad Lauchstädt and, from 2002 to 2011, acted as proxy for the Assets/Grid Projects department of Vattenfall Europe Transmission GmbH (now 50Hertz Transmission GmbH). In 2011, Frank Golletz was ap- pointed Chief Technical Of cer (CTO) of 50Hertz and also acted as interim CEO in 2019.
Adam Middleton
Bio: Starting in April 2019, Adam took over as Senior Vice President of the new Gas and Power Operating Company of Siemens in the Netherlands, integrating eight business units in anticipation of the flotation of the Gas and Power company in September 2020. He transitioned from Managing Director, Gas and Power to become the CEO of the newly formed Siemens Energy company in The Netherlands from March 2020.
Prior to this, Adam led the Energy Management activities of Siemens in Belgium, France and French-speaking Africa. Adam led Laing O'Rourke's Power and Energy activities, including development of its position within the nuclear generation segment. Adam was a member of the UK Government Department of Energy and Climate Change (DECC) Nuclear Industry Council and led the work on cost reduction in the design and construction of new nuclear power generation infrastructure. Prior to this, Adam has held a number of global executive management positions within the Power, Energy and Oil & Gas segments with major corporations including General Electric (GE), ALSTOM, AREVA and CG Holdings, based in Europe and North America.
Adam is a member of CIGRE and sits on its International Administrative Council. Adam holds the role of Chair of CIGRE UK (2016-2020) and sits on the Conseil D'Administration of CIGRE National Committee France (CNF). His particular focus has been around the development of young engineers within the electrical supply industry with the creation of the CIGRE Next Generation Network (NGN) in 2007, and the creation and support of the CIGRE Women In Engineering/Women's Network in 2016 for the attraction and active development of a more diverse population within the industry.
Stanislav Utts
Bio: Graduated from Moscow Power Engineering Institute (MPEI) (Technical University) in 2009. Lead Engineer System Operator of the United Power System. More than 10 years of power system development experience.
CIGRE member since 2012. IEEE member since 2013. CIGRE SC C1 member since 2019. JWG C4.C6.35/CIRED member, WG C1.15 member, GO-15 WG member. More than 15 publications.
Anna Ferguson
Bio: Anna Ferguson is the Power Systems Director with WSP, leading the Power Systems and Energy Strategy Consulting teams, which have grown significantly during her 3 years with the company. She brings a range of knowledge and experience including electricity regulation, power system economics, experience in supporting a range of generation developers and project management. She also has previous experience in power systems studies for both network operators and generation developers. Prior to joining WSP Anna has held roles as Head of Power Networks with Atkins, where she led the UK Power Networks team, and was a Director with TNEI.
Anna has a background in strategy consulting which was gained when she worked in her earlier career as a Management Consultant for a London consultancy. She now applies the principles gained working for major global clients within the Energy industry. She also has a strong academic background and was a member of the teaching staff at Bath University for the MSc in Electrical Power Systems for five years. Anna is a Fellow of the IET (FIET) and a Chartered Engineer.
Eric Junge
Bio: Mr. M. Eng. Eric Junge recieved his degree in "Electrical energy systems and E-Mobility" from the technical university Ulm, Germany, in 2015. In 2015 he joined Netze BW, a Distribution System Operator in located in South-West Germany, as an Smart Grid Engineer at the department of technical innovation and digitalization. Since 2017 he is the representative Leader of the project "Grid integration of E-Mobility" and responsible to transform the grid for future needs of electric vehicles. Currently he is also chairman of BDEW PG (project group) E-mobility and electric grid.
Thomas Schäfer
Bio: Studied electrical engineering at the Zittau Technical University 1989 Degree in Electrical Engineering / Electrical Power Supply. From 1991 to 2008 work in operation and system management of German transmission network operators. Since 2009 responsible for the technical functions of asset management, network management and customer management within the distribution network operator of the city of Berlin. Since July 2015 Chairman of the Management Board of Stromnetz Berlin GmbH and Vattenfall Vice President of Business Unit Distribution Germany.
Douglas Ramsay
Bio: Chartered engineer with fourteen years' professional experience. Technical focus on innovation in electrical transmission and distribution. Acted as a lead engineer and project manager, controlling project deliverables.
Monica Donldson-Balan
Bio: Architect and sustainability consultant with multi-disciplinary experience in managing and delivering large scale projects with multiple stakeholders with a focus on integrating energy efficiency measures and low carbon heat systems in the design process. Experienced at engaging with multiple stakeholders to develop energy strategies for heat and power across different design stages, at building, site and regional scales covering aspects such as detailed performance design and existing energy infrastructure constraints.
Monica Crosa di Vergagni
Bio: PhD in Science and Technology in Electrical Engineering. Research topics focused on power systems modelling and simulation, optimal power flow algorithms, the integration of renewable resources and storage devices and the analysis of load control strategies for the participation to Demand Response programs and the provision of regulation services