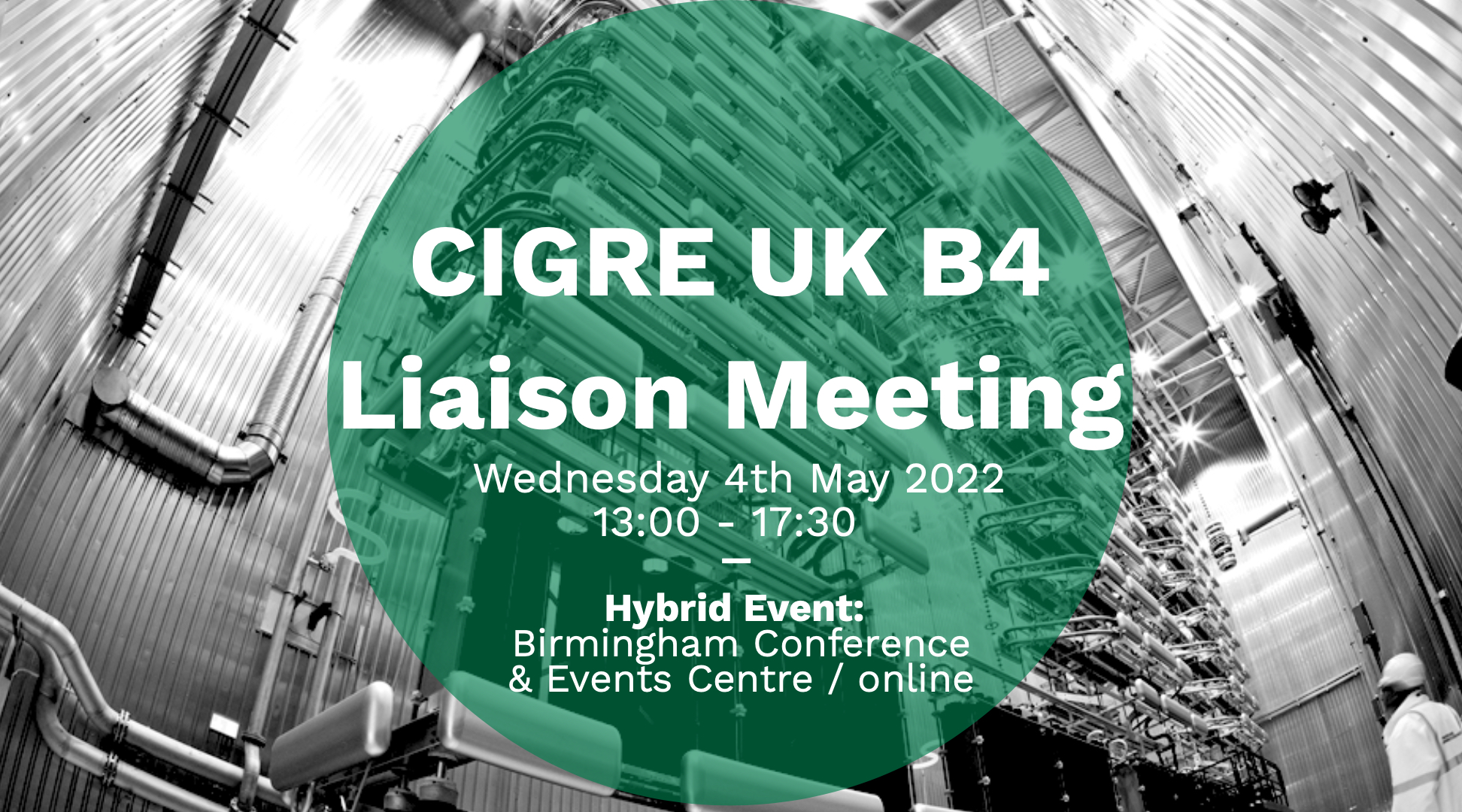 The purpose of the meeting, kindly sponsored by GE,  was to provide a high-level overview of the ongoing activities in CIGRE related to Study Committees B4 (DC Systems & Power Electronics) led by UK Regular Member Dechao Kong. Technical Brochures published in the last year were highlighted, along with a status update on all of the active Working Groups where the UK has an interest. The attendees heard about the latest new work items approved by the Study Committees during the Paris e-session, and provided feedback on possible future work items that could be proposed in the future.
Review or Download the Presentations Material
Click on this link: https://drive.google.com/drive/folders/1I5XgZt4t6tb50Q2VlRjSJ3BvS50YdZY6?usp=sharing
–
B4 Study Committee Mission, Technology & Scope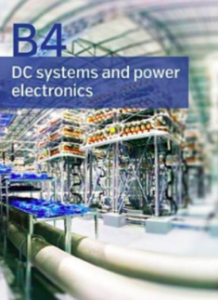 Mission
To facilitate and promote the progress of engineering and the international exchange of information and knowledge in the field of DC and power electronics. To add value to this information and knowledge by means of synthesizing state-of-the-art practices and developing recommendations.
Technological field of activity
Direct Current equipment and systems including converter technology and semi-conductor devices.
Power electronics for AC systems and power quality improvement, advanced power electronics and applications.
Scope
Within its technical field of activity, Study Committee B4 addresses topics throughout the asset management life-cycle phases; from conception, through research, development, design, production, deployment, operation, and end-of life. At all stages, technical, safety, economic, environmental and social aspects are addressed as well as interactions with, and integration into, the evolving power system and the environment. All aspects of performance, specification, testing and the application of testing techniques are within scope, with a specific focus on the impact of changing interactions and demands due to evolution of the power system. Life cycle assessment techniques, risk management techniques, education and training are also important aspects.
Within this framework additional specific areas of attention include:
Theory, principles and concepts, functionality, technological development, design, performance and application of materials, efficiency.

Manufacturing, quality assurance, application guidance, planning, routing and location, construction, erection, installation.

Reliability, availability, dependability, maintainability and maintenance, service, condition monitoring, diagnostics, restoration, repair, loading, upgrading, uprating.

Refurbishment, re-use/re-deployment, deterioration, dismantling, disposal.
–
Thank you to our Event Sponsors 

–
Agenda
13:00 Welcome and update | Regular Member – Dechao Kong
13:30Introduction of recently completed B4 WGs/ JWGs
JWG C4/B4.52

– Guidelines for Sub-synchronous Oscillation Studies in Power Electronics Dominated Power Systems | Elisabetta Lavopa (GE Grid Solutions)

WG B4.83

– Flexible AC Transmission Systems (FACTS) Controllers' Commissioning, Compliance Testing and Model Validation Tests | Graeme Bathurst (Rongxin Huiko Electric Company)

JWG B4/A3.80

– HVDC Circuit Breakers – Technical Requirements, Stresses and Testing Methods to Investigate the Interaction with the System | Dragan Jovcic (University of Aberdeen)

B4.79

– Hybrid LCC/VSC-HVDC Systems | Dechao Kong

Quick Update of Technical Brochures from 2021-2022 | Dechao Kong
15:00Coffee break
15:15 Summary of on-going B4 WGs/JWGs
WG B4.82

– Guidelines for Use of Real Code in EMT Models For HVDC, FACTS and Inverter-based Generators In Power Systems Analysis | Pablo Briff (GE Grid Solutions)

WG B4.84

– Feasibility Study and Application of Electric Energy Storage Systems Embedded in HVDC Systems | Agusti Alvarez (University of Strathclyde)

JWG B4/A3.86

– Fault Limiting Technologies for DC Grids | Xiaoze Pei (University of Bath)
16:30 Closing remarks | Dechao Kong
Online event to finish, delegates with us in person at the BCEC welcomed for networking drinks
17:30 All guests to depart
–
General information
Train
The closest train station to the BCEC is Birmingham New Street (2-minute walk) and airport is Birmingham International (9-minute train journey away).
Parking & location
Please note there is no parking at the Birmingham Conference and Exhibition Centre, but there are two car parks a short walk away:
NCP – St Judes Passage, Birmingham, B5 4AN (2-minute walk)

APOCA – Wrottesley Street, China Town, Birmingham, B5 4RT (4-minute walk)
Covid-19 customer safety
The safety of guests attending our events is our top priority. We continue to follow the latest government guidance and we are promoting their Safer Behaviours as part of their 'Living with COVID-19' plan.
–
Speakers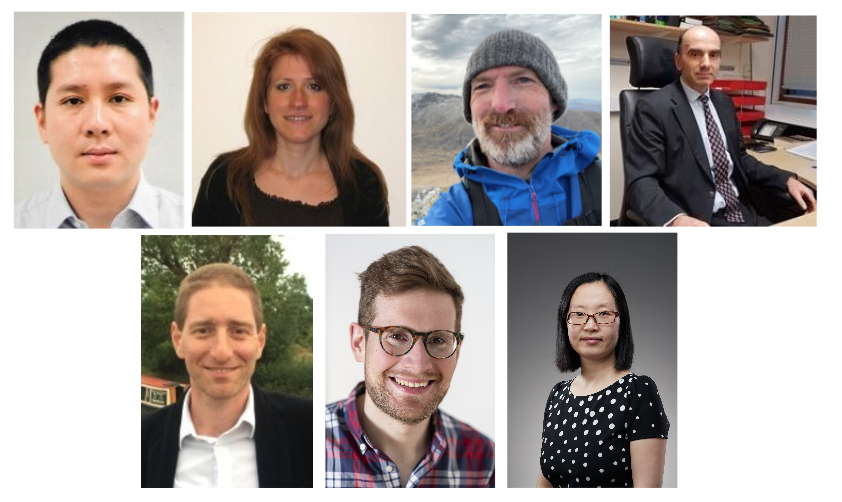 Dechao Kong is the elected UK Regular Member of CIGRE B4 Study Committee since August 2020. He is currently a Power System Engineer and the Subject-Matter Expert in DC Systems and Power Electronics in National Grid ESO, UK.  Dechao has been getting heavily involved in the UK's academia and industry for DC systems and Power Electronics since 2008, contributing his such subject-matter expertise in technical strategy & policy development, new technology & innovation, engineering and asset management. Dechao obtained his Ph.D. degree in Electrical Engineering from University of Birmingham, UK. He is a Chartered Engineer and an IET member in the UK. He is also an active member with multiple roles in several CIGRE SC B4 & B5 Working Groups.
Elisabetta Lavopareceived the MEng Degree in Electrical Engineering from the Technical University of Bari (Italy) in 2005 and the PhD degree in Power Electronics from the University of Nottingham (UK) in 2010. She worked as a post-doc researcher with the PEMC (Power Electronics, Machines and Control) Group at the University of Nottingham (UK) in 2010-2011. She worked as a Research and Development Engineer in the FACTS division of ABB Power Systems in Västerås (Sweden) from 2011 to 2013. Since 2013, she has been with GE Grid Solutions, HVDC Centre of Excellence in Stafford (UK), where she currently works as Team Leader for the System Studies Team. Her main areas of interest include: harmonic analysis of power systems and power electronic converters, power quality, AC network studies, time domain studies of HVDC schemes, scheme design and control design for HVDC systems, active filtering, RTDS modelling and simulation. She is a member of the IET (Institution of Engineering and Technology) and of CIGRE Working Group C4/B4_52.
Originally from New Zealand, (Dr) Graeme Bathurst moved to the United Kingdom to work with National Power and UMIST on Energy Storage in 2000, after a brief period with the Siemens power quality group in Germany.  He then moved back north to Manchester in 2003 to help setup and lead what turned into one of the UK's leading power system consultancy businesses (TNEI), where there was a significant focus on the development of fit-for-purpose simulation models and grid integration of onshore and offshore Wind. In 2013 Graeme joined the then RXPE as Technical Director to establish an engineering and project delivery centre for international projects.  He is now Vice President of the new RXHK business, formed from an MBO from RXPE, with responsibility for international projects, principally focused on Statcoms for grid strengthening and renewable integration. 
Prof. Dragan Jovcic obtained a Diploma Engineer degree in Control Engineering from the University of Belgrade, Serbia in 1993 and a Ph.D. degree in Electrical Engineering from the University of Auckland, New Zealand in 1999. Since 2000 he has been an academic in UK, and currently he is a professor with the University of Aberdeen. In 2008 he held a visiting professor post at McGill University, Canada. Prof. Jovcic is a fellow of IEEE and IEEE PES Distinguished Lecturer. He is editor of IEEE Transactions on Power Delivery, IEEE access and IEEE PES letters. He is a fellow of IET and Chartered Engineer in UK. Prof. Jovcic is a member of CIGRE, chairman of WG B4.76 and has been member of 4 other working groups. He is founder and director of Aberdeen HVDC research centre where he has managed externally funded research projects of around £4 million. Prof Jovcic has over 130 publications and he is author of a book on HVDC: "High Voltage Direct Current Transmission: Converters, Systems and DC Grids", Wiley, 2015.
Pablo Briff received the M.Sc. and Ph.D. degrees in electronic engineering from the University of Buenos Aires, Buenos Aires, Argentina, in 2006 and 2015, respectively. He has 17 years of industrial experience including control systems R&D and project delivery. He started his professional career in 2004 as a control system engineer for oil & gas and electrical applications. Pablo joined GE's HVDC business in 2012 where he currently works as an R&D manager in the HVDC Centre of Excellence in Stafford, United Kingdom. He has published 16 scientific papers in the field of electrical engineering and he has 15 patents in the field of HVDC. His interests include modern control, power electronics, and signal processing. Pablo is a Chartered Engineer in the U.K., a Senior Member of IEEE, a Member of the IET and a Member of EPE International Scientific Committee.
Agustí Egea-Àlvarezhas been a Senior Lecturer in the electronic & electrical engineering department since 2018. He obtained his B.Sc., M.Sc. and Ph.D. from the Technical University of Catalonia in Barcelona in 2008, 2010 and 2014 respectively.  In 2015 he was a Marie Curie fellow at the China Electric Power Research Institute (CEPRI). In 2016 he joined Siemens Gamesa as converter control engineer working on grid forming controllers and alternative HVDC schemes for offshore wind farms until 2018. His research interests are: control of grid-connected converters control, hybrid AC/DC networks modelling and control and advanced converter topologies for grid-connected applications.   He is a member of IEEE and has been involved in several CIGRE and ENTSO-E working groups.
Xiaoze Pei received her Ph.D. from University of Manchester in 2012. She has been a Lecturer at the University of Bath since 2017 and is leading Applied Superconductivity laboratory.  She is a IET Chartered Engineer and her research interest includes superconducting fault current limiter, hybrid DC circuit breaker and novel electric machine. Dr Pei serves as secretary for IEEE Power Electronics Society Technical Committee TC10: Design Methodologies and treasurer for TC10 flagship conference – IEEE Design Methodology Conference 2021 and 2022. She also serves the UK Magnetics Society committee member responsible for the area of Applied Superconductivity. Dr Pei is a member for CIGRE JWG B4/A3.86- Faut Current Limiting Technologies for DC Grids.