NGN Events
The NGN organises a number of events for its members throughout the year.  At Technical Events, you can find out about the latest power system developments and network with your peers; at the bi-monthly Steering Committee meetings members organise the NGN; while the Annual General Meeting (AGM) combines these two and gives an opportunity for the members to direct the NGN's future.  Our events can be found below, where you can browse the events calendar, register for upcoming events and access presentations and reports from previous events.
As well as the Paris Session, CIGRE hosts a number of events that NGN members can attend.  Please also check the UK National Committee events page for other events that may be of interest to NGN members.
If you have an idea for an NGN event, or would like to host one, please let us know by emailing events@cigre-uk-ngn.org.
CIGRE Paris Session 2018 Young Member (YM) Showcase – Call for Abstracts!
The Young M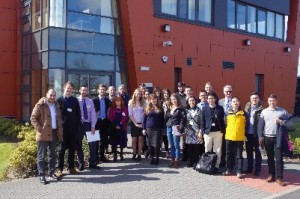 ember (YM) showcase is a unique opportunity for young professionals to showcase their work in CIGRE Paris Session 2018. In the first showcase event in 2016, there were 22 young professionals from 15 counties attended the Paris session and presented their work to leading experts from all around the world.
The UK representatives will be selected by a presentation competition and the successful candidates will have the chance to receive free registration for the CIGRE Paris Session 2018 and potentially financial support for travelling.
Submit a 500 word abstract by 12th January 2018 to participate. Topics for abstracts/presentations should align with one of the CIGRE Paris Session Preferential Subjects here. Contact for abstract submission and enquiry of the showcase: ym-showcase-2018@cigre-ngn-uk.org
Shortlisted candidates will be invited to give a 10-min presentation to a panel of senior CIGRE-UK members and an audience of NGN members at the presentation competition event. The event is intended to takeplace end Feb/early March, however dates and location for the event to be confirmed.
Abstract Requirements:
Two pages maximum
500 words minimum
Use the template provided here
Must state the Preferential Subject (and corresponding Study Committee) that is addressed
Text format: Times New Roman, size 12
You must be a CIGRE-UK NGN member to apply
To join CIGRE-UK NGN click here.
*Note: the final decision over whether a presenter can have a slot at the Paris Session will remain with the respective Study Committee chairman.
10 Years of NGN Evening Event: Monday 9th October, Manchester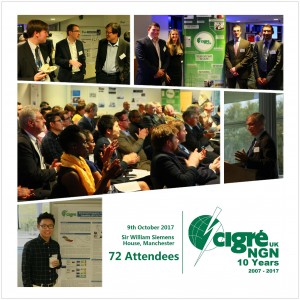 In October 2017 we celebrated 10 years since CIGRE's first Next Generation Network was set up here in the UK.
To celebrate this great milestone, CIGRE-UK NGN will be held an evening event in Manchester on 9th October, very kindly hosted by Siemens.
Join the NGN or CIGRE-UK:
To join the NGN please fill out the application form at this link and to join CIGRE-UK (as a non-NGN member) please go to this link.