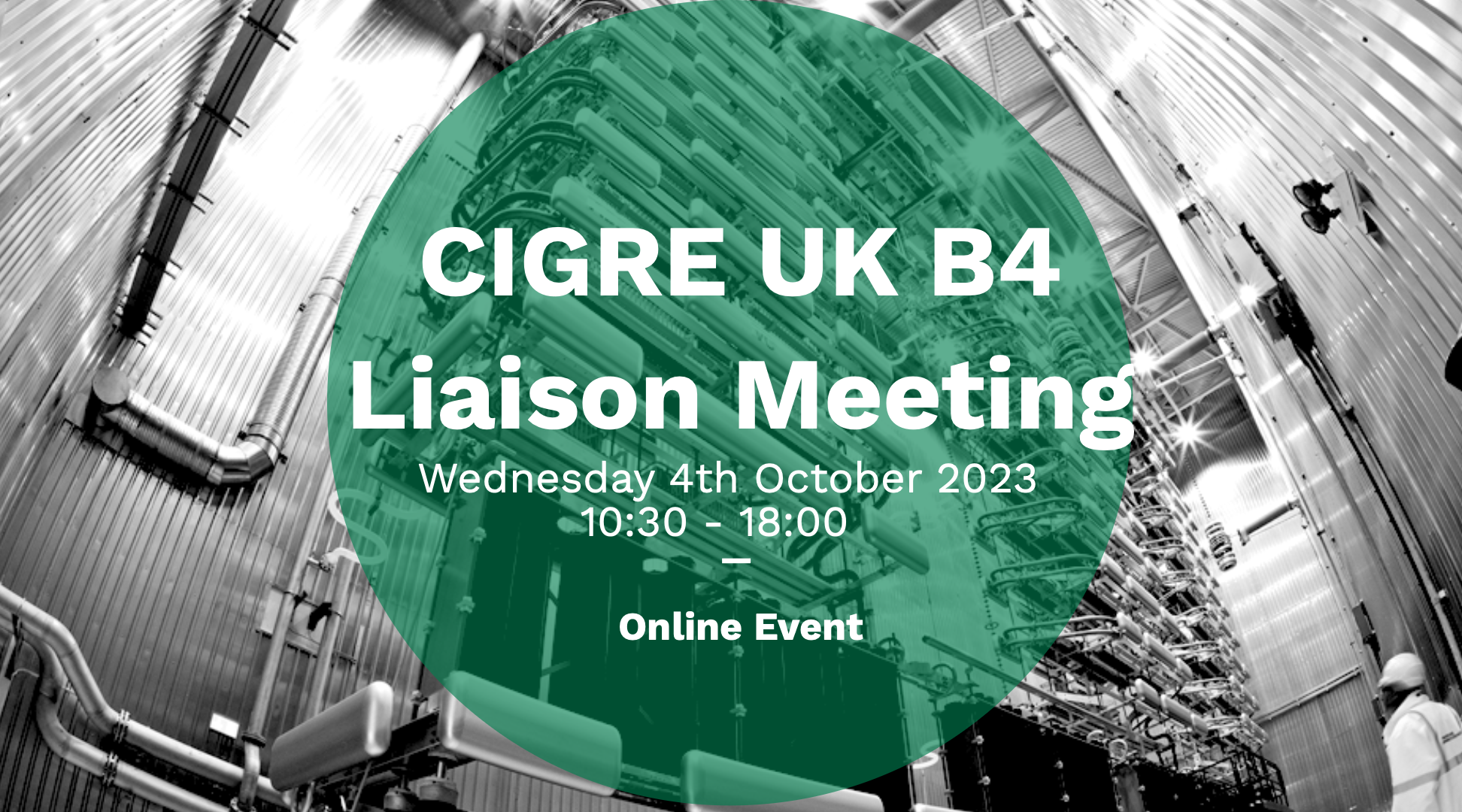 About:
The purpose of the meeting, is to provide a high-level overview of the ongoing activities in CIGRE related to Study Committees B4 (DC Systems & Power Electronics) led by UK Regular Members Dechao Kong and James Yu. There will be keynote presentations, updates on a recent Colloquium, a review of Technical Brochures published in the last year, along with a status update on all of the active Working Groups where the UK has an interest.
Practical Information:
The Webex login details for the event will be issued on email with your ticket confirmation.
Agenda:
[For a background on the presenter's click on their name to view their LinkedIn profile]
11:00 – 11:05 | Welcome from UK Regular Member on behalf of CIGRE UK B4 Technical Panel | Dechao Kong
11:05 – 11:15  | Introduction to CIGRE UK B4 Study Committee | Dechao Kong
11:15 – 12:00  | Keynote 1 – Stability of Power Electronics Based Power Systems | Tim Green / Yunjie Gu
12:00 – 12:45 | Keynote 2 – Power Electronics and Applications in the UK Distributions Network | James Yu
12:45 – 13:00 | CIGRE UK NGN Presentation – Overview: Emerging Hybrid HVDC Technologies | Nan Chen
13:00 – 14:00 | Lunch Break
14:00 – 14:20 | Updates | Dechao Kong
B4 Colloquium Vienna 2023
Overview of Technical Brochures recently published
Brief introduction to newly established B4 Working Groups in 2022- 2023
14:20 – 15:50 | Progress Updates of Ongoing Working Groups | UK Working Group Members
15:50 – 16:00 | Future Activities and AOB | All Members
16:00 | Event Closure
To register to attend please click below:
B4 Study Committee Mission, Technology and Scope:
Mission
To facilitate and promote the progress of engineering and the international exchange of information and knowledge in the field of DC and power electronics. To add value to this information and knowledge by means of synthesizing state-of-the-art practices and developing recommendations.
Technological field of activity
Direct Current equipment and systems including converter technology and semi-conductor devices. Power electronics for AC systems and power quality improvement, advanced power electronics and applications.
Scope
Within its technical field of activity, Study Committee B4 addresses topics throughout the asset management life-cycle phases; from conception, through research, development, design, production, deployment, operation, and end-of life. At all stages, technical, safety, economic, environmental and social aspects are addressed as well as interactions with, and integration into, the evolving power system and the environment. All aspects of performance, specification, testing and the application of testing techniques are within scope, with a specific focus on the impact of changing interactions and demands due to evolution of the power system. Life cycle assessment techniques, risk management techniques, education and training are also important aspects.
Within this framework additional specific areas of attention include:
Theory, principles and concepts, functionality, technological development, design, performance and application of materials, efficiency.
Manufacturing, quality assurance, application guidance, planning, routing and location, construction, erection, installation.
Reliability, availability, dependability, maintainability and maintenance, service, condition monitoring, diagnostics, restoration, repair, loading, upgrading, uprating.
Refurbishment, re-use/re-deployment, deterioration, dismantling, disposal.