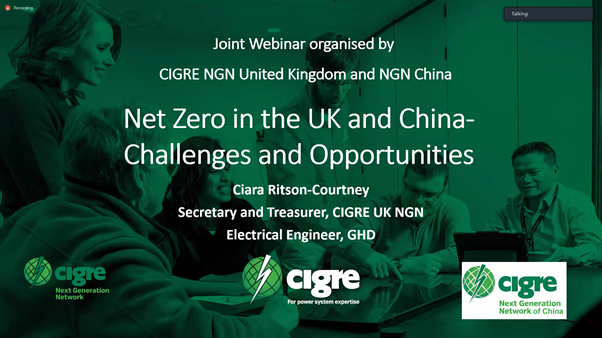 Date: 28th May 2021
Event: CIGRE NGN United Kingdom and NGN China – Net Zero in the UK and China – Challenges and Opportunities. 
Time: 12 pm – 1 pm UK Time
Minutes Secretary:  Siva Kaviya Trichy Siva Raman
Bo Lei, vice-chair of NGN China, Researcher/ Project Manager, EPRI of China Southern Power Grid (CSG), and Dr. James Hill, Policy Manager for Electricity System Operation at Ofgem, shared their insights on Net Zero in the UK and the China – Challenges & Opportunities through an online webinar on 28th May 2021.
The event is attended by Dr. Ying Xue, Chair of CIGRE UK NGN, Assistant Professor in Electrical Power Networks at the University of Birmingham, Ciara Ritson-Courtney, Secretary & Treasurer of CIGRE UK NGN, Electrical Engineer, GHD, Dr. Melike Selcen Ayaz, event lead at CIGRE UK NGN, Energy Consultant at RINA TECH UK. Over 50 people were attending the event.
The webinar is organised by the CIGRE UK & China NGN, chaired by Ciara, Secretary & Treasurer of CIGRE UK NGN, Electrical Engineer, GHD, and hosted by the Zoom platform.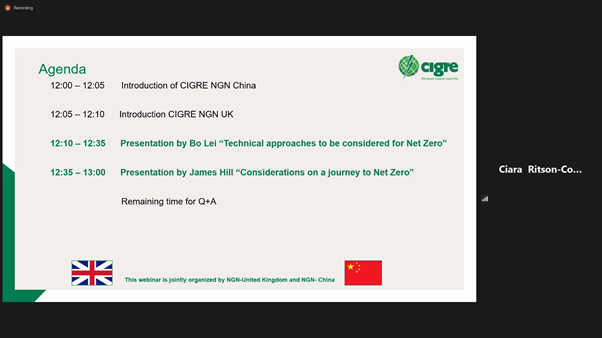 At the start of the event, Ciara provided an opening remark and welcomed all the attendees.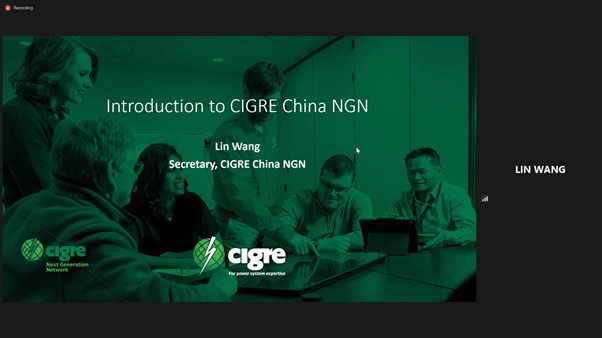 Lin Wang introduced the China NGN, highlighting its past events and CIGRE China themes for 2020/21.
Ciara introduced the UK NGN, highlighting its past events, young member showcase, and mentoring scheme.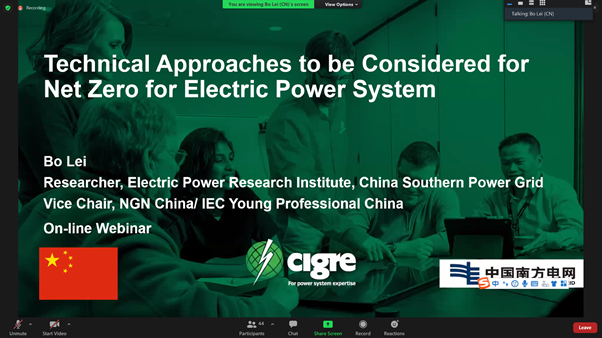 Bo Lei gave a brief introduction of EPRI, CSG followed by an overview of targets set for net zero by China, followed by analysing the challenges in terms of fluctuating and unpredictable nature of variable renewable energies, effects of Power Electronics Equipment in affecting the fault characteristics.
Next, he briefly gave a possible technical approach/solution with the help of Energy coming offshore, VSC-HVDC Technology transmission with a distance of over 10km – 120 km, better optimization of transmission using VSC solution & Hybrid valve topology, room for storage and finally discussed the solution for distribution and end user by usage of Distribution network, DC buildings & Data centre.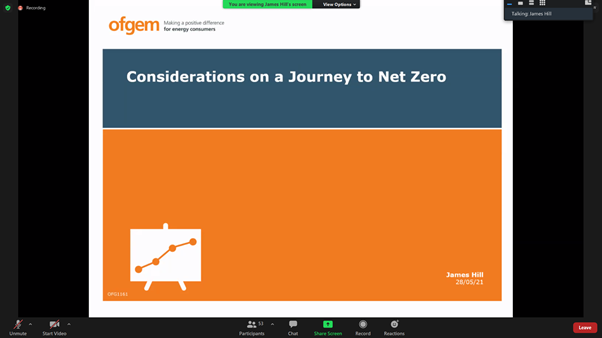 Dr. James hill gave an introduction about the Ofgem, about the net zero target of UK, what does net zero system looks like currently with a promising future of utilising the good wind resources & decarbonisation of all sectors.
Next, he touched upon the progress GB has made in electricity system in the aspect of net zero with emphasis on wind, solar and low carbon intensity, followed the generation mix of UK power system and what needs to be done or planned as part of Ofgem forward programme.
He then elaborated on Low carbon infrastructure, full chain flexibility, data & digitalization, wholesale markets & energy system governance.
He pointed out that the major challenges in achieving the net zero are around converting the coal emission to net zero, followed by uncertainty, inertia, response & reserve energy, generation – demand profile matching, products & planning.
During the panel discussion, the two presenters took several questions such as the role of nuclear resources for net zero in the UK, possible challenges of climatic condition for achieving net zero in China & how to overcome the same.