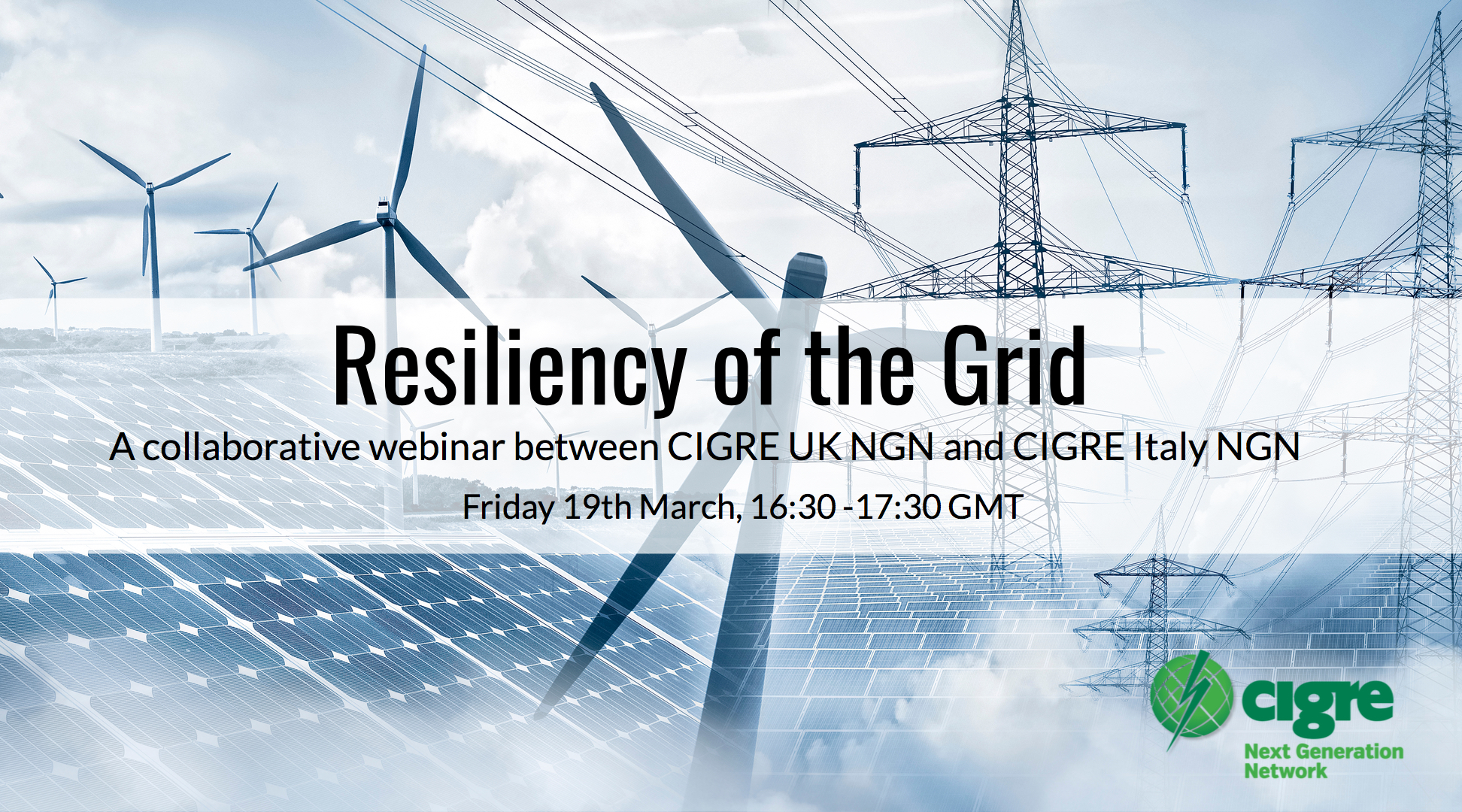 Resiliency of the Grid
a collaborative webinar between CIGRE UK NGN and CIGRE Italy NGN
Date & time: Friday 19th March, 2021 | 4:30pm to 5.30pm GMT, 5:30pm to 6:30 pm CET
Description: Recent blackouts in Texas brought the Grid Resilience into the front line again. Are you interested in quantifying Grid Resilience? Are you interested in understanding how Grid Resilience is tackled in different countries? Please join us in our next online technical webinar, organised in collaboration between CIGRE UK NGN and CIGRE Italy NGN.
Registration: https://attendee.gotowebinar.com/register/5695262837235937548
Agenda
5min: Introduction to Italy NGN
5min: Introduction to UK NGN
20min: Dr. Luigi Calcara (University of Roma "La Sapienza"- Italy) 'Heatwaves effects on MV electrical grid'
20min: Dr. Eduardo Alejandro Martínez Ceseña (University of Manchester – UK) 'Techno-economic modeling and assessment of forward resilience measures'
10min: Round table discussion
Abstracts
Heatwaves effects on MV electrical grid – In the last years, the frequency and the intensity of adverse meteorological conditions are on the rise and climate changes have the potential to affect negatively the electrical systems in many different ways. Local or extended electrical outages have been and are caused by extremely severe negative meteorological events of different nature, like strong winds, wet snow, heavy rain, and heatwaves. Of course, such interruptions of electrical systems affect also critical infrastructures with a negative impact on all human and industrial activities. To face this reality, the Italian Regulatory Authority for Energy, Networks and the Environment (ARERA), established new more stringent rules to maintain high standards of power quality services also through a more resilient electrical system. For this reason, there have been established very ambitious benchmark values for the key performance indicators, normally used to evaluate the quality of electric service. With the aim to increase the resilience of the distribution electrical networks, the DSOs are studying and developing new grid operations with improved assets adopting also advanced electrical technologies. In particular, the medium voltage joints are currently one of the components which require more attention: in fact, they make the system more vulnerable due to possible imperfections introduced during the construction phase both for unperfect manpower and for the complexity of the operations.
Techno-economic modeling and assessment of forward resilience measures – The importance of developing resilience energy systems is attracting research interest due to the recent climate change-driven extreme weather events experienced in different parts of the world. For example, in the UK, Ofgem (the network regulator) has highlighted the importance of considering resilience when developing the power system. However, as resilience is still an emerging topic, there are no standardised metrics and methodologies to quantify resilience and include it in operation and planning practices. This presentation provides an overview of the latest research from The University of Manchester which aims to address these research gaps. To be more specific, the key differences between classical reliability and resilience studies will be presented. The adequacy of different metrics and approaches used to quantify resilience will also be discussed. Proposed approaches to simulate the impacts of extreme events such as wind storms and floods will then be explored in the context of smart systems in urban areas and off-grid systems in isolated locations. The effectiveness of different resilience measures, such as asset hardening and the use of system flexibility, will be discussed in different contexts.
Speakers
Luigi Calcara – Luigi Calcara (1990) received (2015) the Master Degree in Electrical Engineering from the University of Roma "La Sapienza". Part of his thesis was supported by Enel Distribuzione with a training stage developing the work titled "Advanced systems for temperature monitoring to reduce the rate of failures of electric distribution lines in underground medium voltage cables". This contribution was honoured (2016) by the CEI Award as one of the Best Italian Master Degree Thesis.  In 2020 he received his PhD degree, with the valuation with honours, at the University of Roma "La Sapienza" developing a work thesis on the subject of Electrical Resilience: Technological Aspects.  From 2020 he is Contract Professor of "Electric Components" for Electrical Engineering Master Degree at the University of Roma "La Sapienza". From 2021 he is Assistant Professor at the same University. He was the Technical Program Chair of the IEEE International Conference on Dielectric Liquids 2019 (IEEE DEI Society). From 2018 he is member of the local organizing committee of the annual IEEE International Conference on Environment and Electrical Engineering. In 2017 he was Co-Guest Editor of the ELSEVIER Electric Power System Research Journal for the Special Issue on Advances in HV Systems. He also served and is still serving the IEEE DEI Society as Co-Guest Editor of two subsequent Special Issues (2018 and 2020) on Liquid Dielectrics of the Transactions on Dielectrics and Electrical Insulations. From 2016 he is member of CEI CT10 and IEC TC 10 "Fluids for electrotechnical applications".  Up to 2020 he was chair of the IEEE Sapienza Student Branch. Currently, he is President of the Roma Youth Section of the Electrical Italian Association (AEIT).  He is CIGRE D1 Italian Representative Secretary (Materials and Emerging Test Techniques) and member of the CIGRE D1.68 "Natural and synthetic esters – Evaluation of the performance under fire and the impact on environment.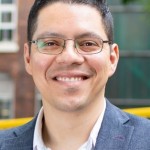 Dr Eduardo Alejandro Martínez Ceseña is an academic fellow in multi-energy systems at The University of Manchester. His research interests include business case assessment, decision making under uncertainty, and modelling of resilient integrated electricity/heat/gas systems. He has co-authored over 50 research papers in high-ranking journals and international conferences, and has participated in over a dozen UK and international research projects; currently leading a 10 researchers team and holding ~£1.5M in active research projects. He is also is a member of CIGRE C6/C1.33, Multi-Energy Systems, and the secretary of CIGRE C6/C2.34, Flexibility provision from distributed energy resources.