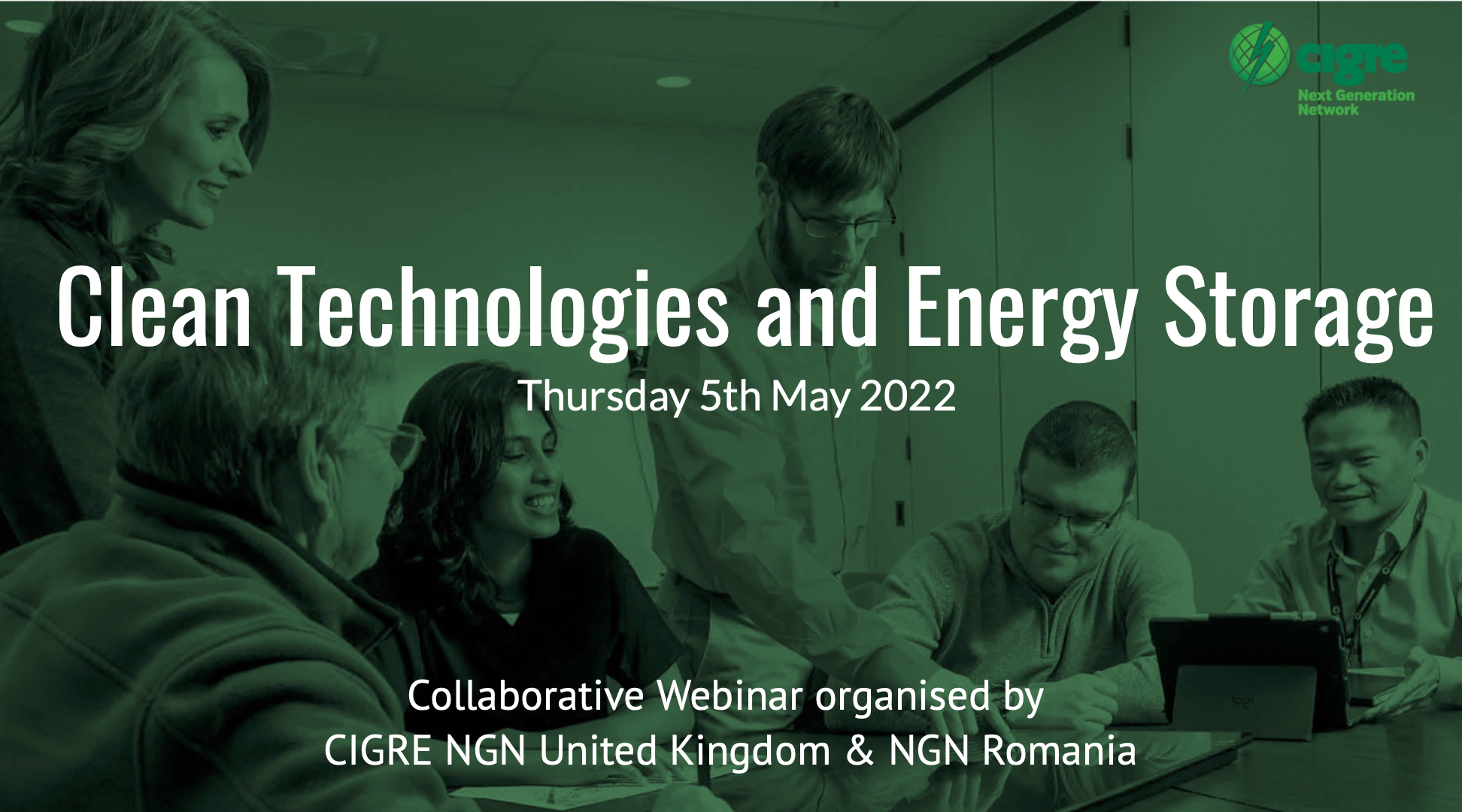 The Next Generation Network (NGN) seeks to facilitate a successful transition into the power systems industry for early-career professionals and students by providing technical resources and networking opportunities for personal and technical development.
CIGRE NGN UK and CIGRE NGN Romania would like to invite to a webinar where four top speakers will present current research activities regarding the contribution of clean technologies and energy storage on modern power networks.
Agenda (BST 11)
11:00 – 11:10 Introduction of CIGRE NGN Romania & UK
11:10 – 11:30 Speech I by Mihai Sanduleac
11:30 – 11:50 Speech II by Diptargha Chakravorty
11:50 – 12:10 Speech III by Petru Ruset
12:10 – 12:30 Speech IV by Angeliki Loukatou
12:30 – 13:00 Round table discussion
Registration
To register for this online event please click the link below to our Eventbrite registration page

Speakers

Speech I – Hydrogen storage as an energy bridge between seasons
The presentation describes a typical case study of renewable energy production during year seasons, providing a view regarding the need for inter-season storage. Hydrogen and CH4 are seen as the main candidates for such season-bridge. The presentation develops the subject and gives possible solutions for a combination of short- and long-term storage, by considering main storage technologies in combination with hydrogen-related solutions.
Dr Mihai SANDULEAC received the MSc. degree in electrical engineering and Ph.D. in expert systems for power networks, from the Polytechnic Institute of Bucharest. Mihai worked at the Energy Research and Modernizing Institute ICEMENERG Bucharest in various positions. Mihai had various activities in the electrical energy sector, including with companies such as Landis&Gyr for metering systems and Siemens for Power Transmission and Distribution. Mihai is currently Associate Professor in University POLITEHNICA of Bucharest, Department of Electrical Power Systems.
Speech II – Advanced tools for future systems
Introduction to an advanced planning tool developed for the Electricity System Operator in Great Britain The tool is designed to enable probabilistic planning for boundary capability assessment using cutting-edge techniques, combining traditional power systems stability analysis with statistical and machine learning methods such as efficient sampling techniques, non-linear dimensionality reduction, network reduction for dynamic equivalents and reinforcement learning.
Dr Diptargha Chakravorty is a Principal Consultant, and he leads the Networks and Innovations team in TNEI Manchester. He is an electrical engineer with over 10 years of experience in the power industry. He is involved in several innovations project in the UK as a technical lead working closely with National Grid Electricity System Operator and several Distribution Network Operators.
Speech III – Climate neutral technologies for clean energy
The presentation will describe Siemens Energy's contribution to the energy transition through its projects that are implemented both in Romania and other countries in the region. By using products with zero global warming potential, there will be a change in the upcoming years in how the modernizing projects of electrical substations, power lines and production units will look like and their impact on the environment.
Dr Petru Ruset has more than 30 years of experience in the energy companies in Romania. He is currently the Managing Director of Siemens Energy and has joined Siemens in 2007 as Head of company's divisions related to the energy field. Between 1989 and 2007 he worked for the transport and distribution of electricity company RENEL, Transelectrica and SMART, holding coordination and management positions.
Speech IV – Long-duration energy storage projects
The presentation will describe three different long-duration energy storage projects EDF is involved in. Specifically, focus will be given on lithium-based batteries co-located with vanadium flow batteries and renewable sources, adiabatic compressed-air energy storage utilising EDF's gas storage facilities and hydrogen stored in depleted uranium hydride, combined with fuel cells.
Dr Angeliki Loukatou is a senior research engineer at EDF Energy UK R&D. She specialises in optimal valuation of energy storage co-located with renewables and long-term electricity price forecasting. She also helps the Wholesale Market Optimisation team regarding workflow automation of their forecasting tools. Previously she has worked at Energy Systems Catapult and the University of Manchester.