As well as organising events throughout the year, the NGN facilitates mentoring and Working Group involvement for its members. Previous events can be seen below.
Cigre UK NGN Hunterston B Power Station
On 28 June 2017, the CIGRE UK NGN had a successful event at the Hunterston B Power Station.  Our guest speakers Colin Foote and Alan Davenport from Scottish Power Energy Network (SPEN) gave very interesting talks on the developments in SPEN network and specifically the Western Link project. The event also included a technical tour to the plant, which gave the attendees an excellent opportunity to see and know more about how the plant is operated and maintained. The event was fully booked with 28 young professionals from utilities, consultancy companies and research institutes.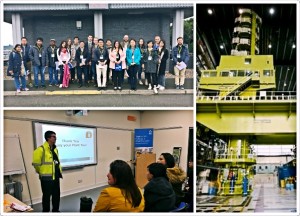 Working Group Participation FAQs
Working Groups (WGs) do the vast majority of CIGRE's technical work.  The NGN has prepared a Frequently Asked Questions (FAQ) document that explains what WGs are, what they do, who is in a WG and how to get involved in them. This document can be downloaded below: